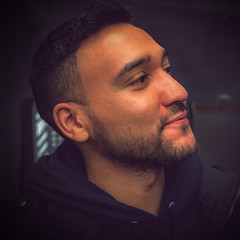 Jayson Miller
Senior Artist @ Microsoft Mixed Reality
Seattle, WA, United States of America
Summary
Hello! My artistic weapons come in the form of diversity and passion. Having a firm grasp on many different digital mediums such as strong fundamentals in composition, lighting, color theory and form within 3D and 2D space allows for versatility within new and existing pipelines.
Possessing expertise in High to Low Poly modeling techniques, PBR Texturing & Modular asset workflows, as well as the ability to follow strict deadlines and inspire those around me allows the ability to maximize artistic efficiency within any production pipeline.
Please feel free to contact me for any inquiries you may have!
Skills
3D Modeling
PBR Texturing
Environment Modeling
Architectural Design
Hard Surface Modeling
World Building
Look Development
Concept Design
Texture Baking
3D Concepting
Environmental Sculpting
Modularity Workflows
Trim sheet creation
Initial Lighting Passes
Optimized Geometry
Great Team Player :D
Software proficiency
Experience
Senior Environment Artist at Microsoft

Redmond, United States of America

Sr. Environment Artist at Infinity Ward

Los Angeles, United States of America

Sr. Environment Artist at BossKey Productions

Raleigh, NC, United States of America

-Environment Artist among a very small team of talented individuals. Responsible for the full pipeline of environment art including areas of Lookdev, Concepting, Modeling, Texturing, Lighting, and Technical proficiency within Unreal Engine 4.

Environment Artist at Turtle Rock Studios

Orange County, CA, United States of America

-Environment Artist among a very small team of talented individuals. Responsible for the full pipeline of environment art including areas of Lookdev, Concepting, Modeling, Texturing, Lighting, and Technical proficiency within Cryengine & UE4

Environment Artist at 343 Industries

Kirkland, WA, United States of America

-Environment Artist as part of the multiplayer (Architecture Team) and working on Halo 5's new game mode - Warzone | I was responsible for supporting architectural structures across the first shipped Warzone maps.

Contract Hard Surface Modeler at Liquid Development

Remote

-Hard surface modeler responsible for weapon assets utilizing High > Low Poly baking, modeling, texturing, and proper UV techniques within an existing workflow

Contract Environment Artist at Wayforward Technologies

Remote, United States of America

-Environment artist responsible for Modular set pieces utilizing proper modeling, texturing, and tileable uv techniques using an existing workflow

Lead 3D Artist at Pixo Group (Formerly Pixofactor, Pixo Entertainment)

Royal Oak, MI, United States of America

-Lead 3D Artist for a full 3D & 2D pipeline including areas of LookDev, Concepting, Modeling, Texturing, Lighting, Performance passes, and technical proficiency within Unity for Games, Apps, Animations, Simulations, etc

Contract Prop Artist at Marvel Apps

Remote, United States of America

August 2012 - September 2012

-Prop artist responsible for detailed prop creation and lookdev utilizing High > Low Poly baking, modeling, texturing, and performance techniques within an existing workflow for use in Unity

3D/2D Production Artist at CGS Imaging

Toledo, United States of America

June 2011 - November 2011

3D Designer/Production Artist at Inflatable Images

New Brunswick, United States of America